Thursday, May 17, 2007
Fit To Drive
Well, at this current moment I'm feeling very exhausted and empty and drained. It's amazing what can happen to your physical body after conducting a workshop.

At University we were trained up to run Fit To Drive workshop. The Victorian Police, RACV and TAC are really into it, and together we go into highschools and run this program. It's really quite good. When I trained up for it, I wasn't expecting to actually work in it. But two days ago, one of the main co-ordinators called me up asking me to help out. So I did. Today.

Anyways, enough about that. I have some news. In approximately 3 hours I will no longer be working in the job I'm currently working in ! Today is my last shift. I mentioned previously that I had some major life changes taking place... and well, this is one of them.

I'm so excited, I just got a job as a social/youth worker. Working with the Salvation Army in the city of Melbourne. The way it all came about was such a God thing. God's Hand was on it all the way.

Perhaps if I wasn't so tired I would share it. Soon. I will. When I'm more alive.

Anyways, after today i will no longer have access to the internet. Internet cafes here we come!
posted by Samantha Louise 2:15 PM

Monday, May 14, 2007
The Hurley Hoody.

Dinner at my dad's. You beauty.

That's where I'm at right now. Sitting on my old kitchen table with my father next to me, staring at me with wide eyes to see how his baby daughter is handling life. Typical of all fathers, he hands me some cash in my hand. Knowing that he is struggling for money himself, it makes me realise how precious I really am to him.

Just as I am also precious to my Heavenly Father.

I really really really wanted to buy a new Hurley hoody. I know that sounds so materalistic and selfish and whatever else, but the truth is.. it's the truth. I wanted a new hoody. And at Christmas time I had been given a $50 voucher to a shopping center, which I had not yet used! So off I went to the shops. I find this hoody, as pictured, and loved it. It was $79.95. $50 was cool. But I didn't have the extra 30 bucks! My friend offered to pay what I couldn't afford. And, as a joke, I say outloud with my friend "haha God, if you feel like being cool, make this come up as a sale item on the computer... and give me $20 off.". I'm telling you. It was just a quick prayer up, one where I was joking. I wasn't even expecting it. I take it to the cash register, say hello to the sales man, he beeps it through and says casually...

"That will be $59.95 thanks"

My friend starts laughing. I go bright red.

"Uh... excuse me?" Just in case, you know, I heard wrongly.

"That's $59.95.."

"No no no ... I think you got it wrong... the tag says it's $79.95."

"Well you can pay the extra 20 bucks if you want... but they screwed it up... for some reason it's been put through the computer as a sale item, sooooo you get it as a sale item."

And with an awkward stunned look upon my face I hand him my $50 voucher and the extra $9.95.

"Sam..." My friend says, tears welling in her eyes from laughter. "Do you know how powerful your prayers are?"

I felt almost embarrassed. "I swear.. I was only joking!!!"

"Well.." She says. "God has a good sense of humour then."
posted by Samantha Louise 6:28 PM

Tuesday, May 8, 2007
Stories of my life Bible Art
I love to write stories. I love to creatively share what is happening in my life. But what is so sad is that the two major stories that are currently unfolding, I cannot share in this. Wisdom says so. However, once the expected outcome arrives,.. trust me, I will be at this computer, fingers frantically typing away, sharing what exactly has been happening
this year
. I feel that the ending of this chapter is about to end...
we'll wait and see.
I've been chewing on a Scripture these past few days. So many thoughts and revelations are flowing through me. Before I share these thoughts I would love to hear what you guys have to say about it, particulary
you
Mike Messerli
. I love to read your thoughts and your wisdom on different Scriptures in the Bible, so.. tell me what you get out of this passage. And then I will share what
I
got out. We can all learn together! :)
If then you were raised with Christ, seek those things which are above, where Christ is, sitting at the right hand of God. Set your mind on things above, not on things on the earth. For you died, and your life is hidden with Christ in God. When Christ who is our life appears, then you also will appear with Him in glory. Colossians 3:1-4
posted by Samantha Louise 1:51 PM

Saturday, May 5, 2007
Uni on a Saturday
It's a Saturday and here I am, basking in the glory of my university library.



Saturdays are supposed to be about sleeping in, making breakfast, walking around in your pyjamas. Going to see friends, enjoy the park, enjoy a hot chocolate at Gloria Jeans. Shopping for that new perfect outfit. Watching movies. Eating rubbish. Talking on the phone, reading a book, going out for dinner with your mates. Laughing, and generally having fun.





But, no, today my Saturday was experienced and enjoyed in a classroom. I had a uni class on today. Oh what fun, what excitement.





Despite the day of the week and the thoughts of what I could be doing. I did have fun. I love my uni course. I love what we do, what we talk about. I love the people I spend the day with.





Cheri

asked me in a comment whether I studied Writing. No, I do not. I've never actually said what I did at uni. But what I'm studying is a Bachelor of Youth Work. It's kinda like Social Work but more...

youthy

.





Yesterday in class I got really passionate. We were discussing something and it was tearing at my heart strings. Before I knew it I was on my feet passionately exclaiming my thoughts and my heart. People sat there in shock. I sat down, also in shock. Afterwards the police officer who was joining us and the other professional youth workers who were training us approached me and said "Thank you. Thank you. We need people like you in the field." I wanted to grab them by the shirt and tell them that all you need to do is read and live the Bible. But I didn't.





Afterwards, one of my peers approached me. He said, "There's something about you, and I want to know what it is. Do you want to join me for a beer?" I told him I didn't drink alcohol but I would love to have a Diet Coke. So off we went and we talked for a good hour. About life, our dreams, values, inspirations. I told him my testimony and he told me what he believed in. After I shared my story he told me he would go away and begin to ask God for an experience of Him.





Something is happening in my heart. Something is changing. This year has been so hard but I'm feeling such a breakthrough taking place. So many miracles have happened in the past week. Just in one week alone I've seen God move in such a way that 5 people have been healed and 6 people gave their hearts to Jesus! I'm excited by everything that is going on. God is so good, so faithful, so awesome!






posted by Samantha Louise 3:00 PM

Thursday, May 3, 2007
Awkward shoe moments.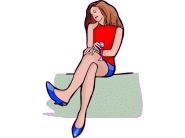 I am wearing these really sweet blue shoes/heels from
Sportsgirl
. These are the shoes that I wear pretty much everyday to work.
However, it is so awkward. Perhaps I'm just too clumsy.
I keep falling over. The shoes have stretched and now I fall.
And I always seem to fall as I'm running across the busy main road... cars heading towards me... shoe falls off my feet... I keep running... I run back and grab shoe... freak out as I see oncoming cars... hair is waving everywhere... stumbling... fall over... heat padding my face... pick myself up... fix clothing... keep walking... trip again.
All so very awkward.
posted by Samantha Louise 11:19 AM

Wednesday, May 2, 2007
The boy.
The 13 year old boy smirked at me from across the room. I ignored him and continued on with what I was speaking. But out of the corner of my eye I could not help but see that boy making gestures, crude jokes and laughing at the non-laughing parts.
Afterwards I hanged out in the highschool's hall, meeting teenagers and connecting with them. Telling them stories of when
I
was attending this school. A year 10-er approached me, fidgeting with his hands, tugging at his school tie, nervous smile on face.
"I err... I've been sick... Could you pray for me?"
He says, eyes diverting my own.
"Sure! I would love to!"
Excitement is caught in my throat. Looking around I gather some christian teenagers to pray with me.
We stood there in the hall, and placed our hands on his shoulders. The other teenagers looked at me, waiting in expectation of what to do next. And as they stared at me I noticed the 13-year old bounding towards me. Purposeful steps. Sarcastic grin on face. He laughed as he noticed us placing our hands on the year 10-ers shoulder. And in mockery, he copied.
Without hesitation I proclaim a prayer of healing, asked God to bless this boy, and generally encouraged him. After we prayed the 13-year old stood there in stun silence.
The year 10-er grins, nerves having fled, and tells us how he is feeling better already. I pat him on the shoulder and tell him he is a champion. His face is beaming and he runs off to tell his friend.
And I notice the 13-year old boy, following me around, watching my steps. I turn to look at him and smile. He looks back at me and blinks.
"That prayer stuff is pretty weird heh.." He says, chewing on his lip in thoughtfulness.
"Why do you say that?" Curiosity hangs on my every word.
"Well, when I put my hand on that guys shoulder... when you prayed.. I felt a jolt go from my hand, up my shoulder, into my chest. And now... well I had this bad cough for ages.. but now.. it's gone." A small smile begins to creep across his face.
Laughing, I give him a high-five and wink.
"God is pretty powerful you know!"
posted by Samantha Louise 2:36 PM

Tuesday, May 1, 2007
Stalker of the blogs.
Talk about the smallness of blogging.



Yesterday after uni I was wandering around the city and I walked past

this guy

.





I absolutely LOVE his blog because it is so random and always has nice photos hahaha.




But man, it was freaky seeing him face to face. Funny thing is, he had no idea who I was. He just kept on walking, right past me, down Swanston street. So I turned around to follow him and work up the courage to go "HEY!!!! I READ YOU!!! And you read me!!!". But fear swallowed that up.




When I realised I was bordering on to being a stalker, I stopped following and kept going on my way.




posted by Samantha Louise 9:12 AM