Friday, March 30, 2007
Finding God... part 3.
Continued from 'Finding God... part 2.'
The walls were crumbling. I stood helplessly as I watched the people surrounding me worship their God. For the first time, my eyes were opened. The love was pouring out of their lips, out of their actions. Everything that they were, their whole being, was for their King. Studying the face of one of the girls I could see peace and rest and love and hope written all over her. Her eyes danced. Her lips were curved upright. Hands were in the air in adoration. Worship. Love. A laying down of life. It was a sweet aroma to a decaying mind. All this time I thought they were nerds. Geeks. Losers. But now, I realised, that I was missing out.
Earlier that day Nathan had approached me. I was flirting hoplessly with the drummer. And along comes Nathan. Good ol Nathan. Always smiling. Always caring. Always had a mystery veiled across his eyes. What did his eyes say? They were so real. It was as if they held a secret. A secret that I longed to know about. And here he was, smiling as always. Whenever he came close to me I could feel a sense of... belonging? Light? Yes, light poured out of him. That was what scared me most. The light. There can be no darkness in light. Darkness was my friend, and each time I was near him I would feel my body squirm.
He looks at me and says pleasantly,
"Have you ever given your heart to Jesus?"
.
Shock abounds me.
My face crumbles, fists begin to clench. Who was this guy to ask me such an offensive question?
Cursing, I turn away and walk off from him.
But ALL DAY his question gripped me. Why did it send shivers down my back? Why did it cause the hairs on my arm to stand on end? What was it about him?
What is it about this place? These people?
The night before, the first night, I was stuck in a cabin room surrounded by squeeling girls. Alone I perched atop of my bunk bed as I stared down at them reading the Bible. The BIBLE!? Distant memories of wanting to read that Book haunted me.
Why were they so happy?

And now, I'm standing on the edge of a cliff. A decision is to be made. You must lose your life to find it...
posted by Samantha Louise 4:10 PM

Thursday, March 29, 2007
Ouch...
Wow. That's all I can say. Wow.
Life sure is exciting, isn't it?
Today I received some more news. It was like a sharp slap across the face. It's still stinging.
Will I trust God? What will I do? Honestly, I want to run away.


I waited patiently for the Lord;
And He inclined to me,
And heard my cry.
He also brought me up out of a horrible pit,
Out of the miry clay,
And set my feet upon a rock,
And established my steps.
He has put a new song in my mouth—
Praise to our God;
Many will see it and fear,
And will trust in the LORD.

Blessed is that man who makes the LORD his trust,
And does not respect the proud, nor such as turn aside to lies.
Many, O LORD my God, are Your wonderful works
Which You have done;
And Your thoughts toward us
Cannot be recounted to You in order;
If I would declare and speak of them,
They are more than can be numbered.

Psalm 40:1-5
posted by Samantha Louise 10:36 AM

Wednesday, March 28, 2007
Blindly.
Right now I feel like I'm walking with my eyes closed. I cannot see ahead of me. Oh, I can feel the gentle guidance of the Holy Spirit. I can feel His firm grip in my hand, taking me one step at a time.
But I just wish I could see far ahead and see where He is leading me.

I'm tired of walking and not knowing. I'm tired of feeling things and not understanding.

It takes you to a new level of trust in God when you are in these places. This year has been a big test of my faith and my perseverance. A test of my patience. A test of my willingness to see how far I would go for Him. Boy, do I hope I'm passing the test.

All I can do is sit at His feet.
posted by Samantha Louise 4:04 PM

Laundry mishaps..
I suppose I should tell you all about the finer things of life. About the drive I went on this morning, how pretty it was to see the sun budding behind the trees. To spot the kangaroo who was staring at me as I drove by. Or the cows that made the morning chorus.
Or perhaps I should tell you about my time with God last night as I drove around Melbourne for 2 hours. Taking a pit-stop to visit
Butterfly Girl
, a beautiful friend I had not seen in about four years.

But no, rather, I will recount the events that took place early this morning.

At 4:30am I was awoken by a deadly smell. It was so deadly that it shook my body, awaking me from my deep sleep. All my senses were on the alert. Panic set in.

What was that smell?!!!

Still in a dream state I began to imagine myself lying atop a dead carcus. Or worst yet, a pile of poo. Groaning I leaned over and switched on my lamp. For a moment I layed there with my eyes squeezed tightly shut, afraid of what may meet me.

It was only discovered that I was alone in my room. Everything was in perfect order. Except for that smell!

Covering my nose and my mouth I ventured out of my bedroom. Looking this way and that I was once again met with a nothing. Just a smell that could wake the dead. As I crept out of my bedroom the smell got worst. I could feel my insides squirming. My throat began to clamp up.
Eventually I reach the laundry, it seems that the smell was taking on a new level. Taking in a deep breath I slowly opened the laundry door.

It was horrible.

It was disgusting.

Vomit was climbing up my throat.

Greater than my imagination could ever fathom, I was met wtih a deadly sight. In the middle of the laundry floor was a big pile of dog poo. May I be graphic for a moment? It wasn't just poo. But it was worst. It looked like a pile of mud. Enough to fill a bucket two times. However, it didnt' end there. Not only was there the pile, but spread across the floor was all this poo. It was smeared into the tiles. On the walls. EVERYWHERE!

Eyes watering, body shaking, throat closing over I ran for it. Straight for my parents room.

MUM !!! DAD !!! GET UP NOW!!!

The rest of the morning was met with the exciting job of cleaning it up.
posted by Samantha Louise 9:04 AM

Monday, March 26, 2007
Finding God... Part 2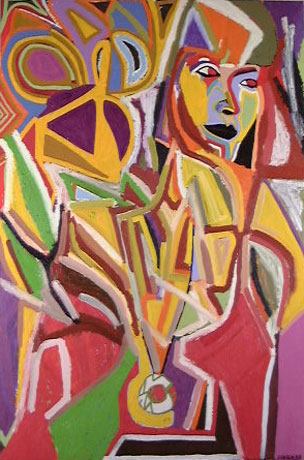 Continued from 'Finding God... Part 1'

Hesitantly I climbed out of the car. One look at the place and I wanted to get back in and demand to go home. There was one lone small oval. Overgrown grass. Dead flowers. Trees with broken limbs draped over the building. The building was brown and ran down. A small wooden ramp hedged across the land with cluttered cabin rooms by its side.

Tugging on my friends jacket with pleading eyes I say to her, "Lets not do this. Lets go home. I made a mistake, I shouldn't have come."

It was a week since the incident in my bedroom when I heard the voice. And as I foolishly spoke to the roof asking if it was God and if He was real, I felt all the more stupid as I was responded with a deafening silence. My silent thoughts were interrupted by the shrilling sound of the phone ringing. It was my best friend asking me to come on a youth camp with her for the weekend. Reluctantly I agreed.

And now, a week on and I wanted to escape before it had even began. Before I could run off a man with blonde hair, blue eyes and a goofy grin comes bounding towards me.

"Heeyyy!!!!" He greets, with more enthusiasm I could handle.

"Hi.." I mutter, looking him up and down and sizing in my mind who this person was.

"I'm Nathan, it's great to have you at the camp!" He held out his hand in expectation of a hand-shake.

"Yeah.. it's... great.." I say, forcing a smile. Somehow I knew that this weekend would be life altering. I just didn't know how, what, or why. As far as I was concerned, I didn't want to know. I didn't want to know these people, their lives, or anything about them.

All I wanted to do was go home.

Yet, home was about to come knocking at my door....

part 1


part 3


part 4
posted by Samantha Louise 11:07 PM

Funeral..
I'm going to a funeral today.
posted by Samantha Louise 11:17 AM

Friday, March 23, 2007
Finding God.. part 1
The walls were caving in around me. My surroundings were weighing heavily upon my heart. As I layed on my back the thoughts that prevailed my mind suffocated me.
Death. Die. You're not worth it. Kill yourself. Die. Do it. Now.
I gripped at my clothes in anguish. On the floor next to me was a shoe, in frustration I fumbled for it and with all the strength I could muster I threw it at my wall. It hit the blue wall by my bed with a loud thud. My heart pounded loudly in my chest as I watched the abused shoe land on the floor.

Die. Death. Do it.

The thoughts continued. Eating at my brain, at my being. It was like cancer and it was unstoppable. I let out a whimper as I stared hopelessly at the roof of my room. Spread across my roof were glow-in-the dark stickers and I began to focus all my attention on the sticker of Earth.

"Who would create such a world only to allow us to hate it!" I wanted to shout.

What do I do to end this pain and this misery? How did I become such a pathetic 14-year-old girl living in such a hole of despair and darkness?

And as I felt my heart dying and my mind battling with thoughts of death, I looked at the roof and cried in agony.
"Samantha...."
A voice said.

My mind stopped racing. As did my heart. Unclenching my fists I layed in silence to hear the sounds of my intruder.

"Who said that!?" Frantically I picked myself off the floor and whirled my head around to find the owner of the voice. Nobody was there.

"Don't be stupid! Tell me who you are!" With haste in my step I opened the door of my bedroom and looked up and down the hallway. It was empty.

In panic I began to race around the house checking every room to find who would speak my name with such authority. Yet gentleness. And stillness. Enough to calm my heart and my thoughts.
Eventually I stopped pacing, stopped running. With a fear and an awe that overwhelmed me I looked up and with a shakey voice I ask, "God... ? " I felt stupid. "Uh.. God... Was that you? Are you real?"
Silence.
"Well... if you are God... maybe you could help me? Please... if you can hear me... Tell me if you are real?"
Somehow I knew that I was on the edge of something very important. Life changing. I just wasn't quite sure what...
Part 2
posted by Samantha Louise 2:43 PM

Thursday, March 22, 2007
Death and eternity..

Today I've been feeling sad.

Maybe it's because I've been exhausted and I'm also on the receiving end of the flu. I'm not sure. But I'm sad.
I have alot to be thankful for. Somebody found my USB, which means my essay has been retrieved. Praise God. Also, God has been providing me with alot of things lately- I will share at another point.

But I'm sad because I have been thinking alot lately. About eternity. When I think of eternity for myself I'm overwhelmed with joy and excitement. I know where I'm going. But then I start thinking of my friends and my family... and sadly, I know where they are going. I'm not sure what I would do if my parents were to suddenly die.
I was telling a friend today that I've had alot of people in my life pass away. The thought of what is happening to them right now makes me want to scream.

One of my cousins commited suicide a few years back. It wasn't easy. I remember the day I found out, I felt like a knife was plunged into my heart. My aunty found him hanging by a rope in his bedroom. He suffered from Skitzophrenia. I felt bad because I never bothered with him too much, he was one of those people that was hard to love. At christmas time we would be fighting over who didn't have to sit next to him. Because of his mental illness, he often wouldn't take showers.

As I'm writing this I have tears streaming down my face. Life is too short to have regrets, but do you want me to be honest? I have regrets. Yes, through these regrets I've learnt alot and grown alot. But, I do have regrets. I think it's so cliche when people give the nice happy answer to that "No I don't regret anything."
I regret not loving Simon, my cousin. I regret not visiting him more often. I regret never telling him about my faith.

What if what if what if?

Yesterday I witnessed a car accident. I was sitting in a cafe on my lunch break, and outside the window at the intersection I watched as a truck slammed head on into another car. The car span around, the front bonnet came off. It was the loudest sound. People in the cafe screamed. One of the men ran to the road to help out. I pulled out my mobile to call the ambulance but someone bet me to it. The windscreeen of the car was completely smashed. By the looks of it, we all thought that the man had died. We could see nobody for about 5 mins. The longest 5 mins ever. Eventually, by some miracle, the man stepped out of his car and was walking around.

But what if he didn't survive? What then?

What if what if what if???

Something is stirring in me. Something is shifting in my mindset and in my heart. Eternity is becoming more a reality to me. With that comes desperation. Desperation to see the ones I live with know Jesus too.
posted by Samantha Louise 10:41 PM

Thinking..
Alot of people, in comments and off comments, have been asking me to finish the story on what happened with my grandfather.
I will.
But not now.
It perhaps isn't the best ending to a story... oh at the last minute it was... but I learnt alot. There is alot to be learnt through it. When I finish the story I will share exactly what that is.
I'm feeling lazy. Too lazy to write. Too lazy to think.
Let me do point form on what has been going on:

- I went to a conference where Bill Johnson spoke at. It was good. Extremely good. God taught me alot.

- One of my friends mum passed away yesterday :(

- I'm tired and sick. Currently at work, looking forward to being home and sleeping.

- I'm moving out of home. Or, planning to.

- Have had alot on my heart. Been thinking about heaven and hell and eternity and all that lately.

Do you guys mind me asking... But what do you like to read on my blog? What do you want to see more of? Which entries do you find the best and make you want to keep reading?

I love writing, and I want to improve on my writing. I'm not just writing for me, but I'm writing for you. I would love to hear your comments on this.

Thank-you.
posted by Samantha Louise 12:47 PM

Wednesday, March 21, 2007
Frustration!!
Frustration seems to be chasing me down. I don't want to be frustrated. I want to move beyond frustration. But I am frustrated.

I'm tired and I can feel the flu settling on me. I want to sleep. I haven't slept for more than 4 hours a night in the past two weeks. And when I have the opportunity to sleep my body reacts in strange ways. For example... The other night I woke up at 3 am. I brushed my teeth, cleaned my room, started making breakfast, chose what clothes I was going to wear.. and just before I was about to step into the shower I look at the clock and notice it is 4 am. With no hesitation I jumped back in bed and tried to reclaim that lost hour.
Or, a few weeks ago.. I woke up in the middle of the night, sitting on the edge of my bed with two Tim-Tam's hanging out of my mouth!
What the?

Anyways, the real reason for my frustration is because I lost my USB key thingy. It was on my set of keys... and I look.. and now it is GONE. GONE! I had all my uni homework on it... the beginnings of an essay! So much hard work :( There were also other valuable documents that I've lost.

Well, enough of this complaining and whinging. I suppose it isn't the end of the world.
posted by Samantha Louise 10:35 AM

Sunday, March 18, 2007
Woken from coma.

The look in her eyes told me that everything was not okay. She stood at my door in silence fighting the tears that so desperately wanted to escape.

"Honey..." My mum whispers. "Your... your grandfather has had a heart attack... he...he..." I watch as she grips tightly to the door frame, knuckles turning white. Taking a quick breath she continues, "he's in a coma... he isn't going to make it... They want to pull the life support off in a couple of days..." One lone tear creeps slowly down her face. "We'll say our good-byes tomorrow." And as she finishes she sadly turns away, closes the door and leaves me in the emptiness of my room.

I was 15 years old, only a new Christian, not yet attending church. Jesus was my everything, but I lacked so much wisdom and so much knowledge. As my mum left me to my silence I felt an odd peace settle in my heart. No tears came. No fear gripped me. Sitting there on my lonesome all I could feel was an indescribable peace.

"Why am I not sad?" I asked God.
And in my heart I could feel the faint whispers of my King, "He will live. I want to give him 6 more months, I want him to know me."
"But he is in a coma Lord."
"He will rise..."

Breathlessly I fell on my knees and began to worship. He won't die? He will live? How is this so. I had never heard of healings, I had never heard of such mysteries. Pulling out my Bible I began to pour over the story of Jesus raising Lazarus, and how He time and time again would heal people of their diseases. Turning to Acts I read in wonder of how ordinary day-to-day men were used in the power of God to see people healed and set free. My heart fluttered in my chest. Could it be that God could use me in this same way? That if I lay my hands on my grandfather, that God will raise Him?

If that it was the Word says, then it must be so. I had decided in my heart. I didn't know many christians- I was banned from church. All I knew was God and what the Word said. All I knew was HIS character. I didn't know the pollution and doubt that us Christians can sometimes do to His simple truths.

The following day came. We drove in silence to the hospital. My dad was concentrating on the road, holding tight to the wheel. Looking at him I could see the battle that was happening. His father, sick. His father, death creeping in. His father, his best friend, having to say good bye. As I watched my father drive I could feel my heart breaking.
If only my family knew the love of God... I had thought to myself. A smile settles on my face as I thought of what was about to take place.

We were ushered into the waiting room of the Intensive Care Unit. Family flooded the room. Pay their respects, share their love, say good-bye. Distraught was written across their faces. My grandmother reached out to me, hugged me, cried into my shoulder. Silently I parted from the family, nestled into a corner, pulled out my Bible and waited.

"What are you reading?!" A family member shouted out to me.
"The Bible..." My face turned to a shade of red. Lack of confidence. Embarrassment. Fear?
My family member laughed at me. They would always laugh. Jeering. Taunting. Not understanding. Thinking they were wise beyond their years and I was just the little girl who knew nothing and was just a little tiny Christian.

If only they knew what a powerful God could do through a little tiny Christian.

At last, it was my turn to walk into the ICU. My grandmother held tightly to my hand. Afraid that my young mind would not cope wtih the sight that I would see. Silently we walked through the unit, passing by beds of people about to face eternity.

Where would they go?

We reach my grandfather. Mind racing as I saw him lying on that bed. I gulped for air. He had lost weight, he was the shade of death, tubes were everywhere. A loud whirring machine was hooked up to him. What do I do? Do I say good bye? I was afraid. Embarrassed even of my faith. What would my grandmother say when I prayed? What would the nurses do?
But I knew that I had to get past the fear and realise that this was a life or death situation.

Placing my trembling hands on his head I uttered a whisper. "Jesus... do what You need to do. The Bible says that you can heal. Please, heal my grandfather. Take sickness from him."

My grandmother began to shake and cry as I whispered those words.

We walked out, hand in hand. Peace was once again reigning over fear. That night as I went to bed I knew that although nothing happened at that moment... something had shifted. Death had moved. Life came in.
Morning came. My mum walks into my room, all smiles. Excited. Uncertain. She knew that I had prayed for him, grandmother told her.

"You'll never believe it Sam..." She was almost jumping off the walls. "The nurses say it is a miracle. Just before they were going to take the life support off... he woke up" She was beaming.

It was at that moment that I began to weep.

And then, the next day, he was released from hospital. A well man. Ready to go home. Ready to do life again.
The Lord Almighty gave him a second chance.

What an awesome God we serve! The love that He has for us! The mercy and the grace! If only we could truly understand all of this. If only we could truly believe how much He loves us! How great is our God! He is supreme! He is almighty! He reigns! All other names must bow to His name!
posted by Samantha Louise 12:57 AM

Thursday, March 15, 2007
Fatherless generation...
My heart is shattering into a thousand pieces. It's been breaking and grieving. However not in a sense where things are

bad

or

wrong

, but because I've asked God to break my heart and to give me a new burden for this

fatherless generation

. So often I can get back into that little cocoon of selfishness, self-gain,

all about me

lifestyle of living. All too often I can forget what Jesus says and the

friendly

reminders of

picking up your Cross

, counting the

cost

,

laying your life down for another

. Dying to self. Making disciples of all men.


And I hate it.


I hate that as a human I can be so wrapped up in my own world and my own desires and forget the people that walk around me everyday. That I can forget the pain of sin that people live in. That they don't even realise they live in. Tentacils of sin slowly climb up their legs, coil around their body, and eventually choke them to death before they even realise what has gripped them. How can I live my life and see people walk a road that may give temporary satisfaction but long-term turmoil?



So, I ask Him to break me. Break my heart. Let me weep. Let me see with the eyes of my Father! Let me hear with the ears of my Lord! Let me hear the silent cries of this generation who are in desperate need of a Saviour, so desperate that alot of them don't even realise He is the answer.


The fatherless generation. The teenagers. Youth of today.

My heart breaks as I think of those teenagers that I see everyday. At the train stations, walking around with their heads hanging low, no where to go. No one to give them the love that their soul craves for.



Those girls, young girls, flaunting their bodies. Thinking and feeling that the only way to be accepted, the only way to feel any sort of emotion, is to give themselves over to boys. To have their purity and innocense stolen away so that they can just capture one glance of plastic love.
Oh, and those kids, those kids labelled by society as the hopeless, never going to change, delinquents. How I cringed when a co-worker said of one of the clients, "She's just a stupid little sl*t and I hope she chokes on the next pill she swallows!". Heart-wrenching. Can people not see the whispers of their hearts? They rebel because they want to know that they still exist!
What about that 15-year-old girl who I had to keep watch on. Here I am on one side of the window peering in as she ran around in frantic circles. Screaming. Tearing at her head. Crashing into walls. Wanting to die. Wanting death to grip her and take her to another place, a "better" place. If only she knew that this better place was worst than the hell that was created in her mind. What of her life? Taken from her family as a baby, moved from home to home, school drop out at age 11. Live on the streets. Find drugs. Do crime. Survive. Must survive.





What of this generation? How the Father weeps for these children! For HIS CHILDREN. The forgotten children.





One night I was on call, I rush to the house. It's 3am. Two girls, 14-year old girls, outside with their cigarettes hanging from their mouths. Flirty words dripped from their tounges. They were flirting with a 30 year old. A 30 year old. Desperation. Lonlieness. Girls, only Jesus can fill that empty hole! And ohhh, how my heart breaks, that same very night. As they come back into the unit. "Before you go to bed, would you like a juice?" I would ask. "WHAT!?" Disbelief planted across their face. Shock as I pour them a juice. "Why would you do this for me?" Tears walled up behind eyes. "Because you're worth it..." I would say, in greater shock.
Why did it shock these two young girls for a stranger to offer them a drink?
An act of service, an act of love. And it was that one serve of drink that lead one of those girls to give their hearts to Jesus in the early hours of the night!




And what of that young boy, foster home to foster home. So vulernerable. Naive. Thinks he is tough, acts tough, must be tough to live. He would walk in, hasnt' showered in three months. Three months! Why dont' you shower? And as you ask he'll curse at you. Pick up a couch. Throw it at you. GET AWAY FROM ME, he'd yell. So much fear plagues him. Yet his way of running from the fear is to run with that knife. Protect himself. Stay alive. Steal. Get caught by cops, AGAIN. In the cop station they would look at me, "Why bother? You should make him sleep the night!" And here he is, this same boy, the one who threw the couch. Look in his eyes and see pain and pleas.

"Don't let me stay in here..."

He would beg. Fear. The fear that took him to this place is still plauging his mind.

Let my heart break. My heart needs to break for this generation. I don't want to be selfish, I don't want to think of my own wants and my own desires. Why do I find it so easy to fall back into that place and sit comfortable as ever? As I curl up on my own sofa, warmth, roof over my head. Full stomach. Loving family and friends. Yet, I'm at misfortune because sometimes I forget. I don't want to forget. Feed the hungry, give drink to those who thirst! Make disciples of all men! See these children saved, set free, walk from their lives of hopelessness and into a road of faith and love in the arms of their Saviour.

Stir it up in us... A passion for the lost... Fill us with Your Love... That all may know You Lord....
posted by Samantha Louise 2:58 PM

Tuesday, March 13, 2007
The tree that saved me.

"But, what if they find out? What if we get caught?" My friend looks at me nervously. Gripping my steering wheel with sheer determination I shrugged off her remark.
"We aren't going to get caught." I say, rolling my eyes. "The only way our parents will ever find out was if we crashed into a tree or something!" I begin laughing.
"Don't say that Sam, it isn't funny." She looks at me seriously.
"I was joking! Come on, relax, lets have fun." I take one hand off the wheel and shove her gently.
I was young and I was foolish. Thirsty for love and willing to drive across deserts to find it to try and satisfy my soul. It was summer, we had just finished highschool, and we were looking for adventure! It had started only 2 weeks prior to this conversation. My highschool friend, one of my closest friends at the time, and I spent the week in a caravan by the beach. On the first day of arrival I was taking a walk on my own along the sand. It was a beautiful day, the sun was setting, and I was at peace with myself.
Until I saw him.
My heart stopped beating and I found my cheeks burning. He was standing there, gran-pa trousers on, bare chested, grin on face, cigarette in hand, sandy brown hair with a fringe covering one eye, barefeet. He held my stare as I nervously patted my skirt down, and tucked my flowing hair behind my ear. I didnt' know what to do. I didn't know this boy, but there was something about the boy that caused butterflies to be let out and flutter about in my stomach.
"You shouldn't smoke, you know.." I exclaim out, not knowing what else to say.
"And who says?" A mischevious laughter escapes his lips. "You or my mother?"
Taken aback I call out, "Your mother!" It appeared that my response was hilarious to this boy.
"My mother was the one who first introduced me to bongs you know." He laughs, testing my response.
From that moment on I was taken. And the week was spent with this charming boy. He grew up with hippy parents, would yearly go to nudist camps. A fire-twirler. Guitarist and song-writer. Charmer. Knew what a girl wanted. Our nights were spent on the beach with illegal bon-fires burning. He would play his guitar and sing me songs. And our days were full of adventure, rock climbing and finding hidden caves to steal kisses from one another.
Our last night together we were laying on the beach embasking in each others presence. He looks up at the sky, points out a star to me and tells me that he is now officially naming the star "Samantha... So that each night I can look at the star and I'll never forget you or your beautiful smile and your beautiful kisses."
Naive and stupid, I thought I would fall madly in love with this boy. And that we would run away together, elope, travel the world and live happily ever after. For that week I forgot my first love, Jesus. I wasn't stable in my ways and was easily swayed by the wind of charming words. The first time that this boy kissed me I was a goner.
And now we were here, 2 weeks later, in the car with my friend cautious as always. I couldn't blame her. We had blatantly lied to our parents, packed our cars secretly late in the night. I told my parents we were going shopping and I would stay at her house. Leaving in the early hours of the morning we set out to drive to this boys house. Me to see the love of my summer, and her to see the love of her summer. As we continued to drive closer to the passionate embrace of this boy I could feel the Holy Spirit tugging at my heart, "What about Me?" He would whisper. And each time I would hold that steering wheel with dear life, push my foot down on the accelerator, ignore the warnings and continue driving to what I thought was destiny.
At last we arrived. Excited and full of life the four of us... Myself, my friend, the boy, the boys friend... Were driving off for a day of activities and rebellion.
We were only 5 minutes down the road when it happened.
"Take a left here.." The boy says. Obediantly I turn left and follow the road that was instructed to me.
"You sure about this?" I say, noticing that the road barely looked used. Thick dust covered the road, tall thick looming trees hedged it.
"It's a 10 minute short-cut!" He assures me. I melt as I watch him smile that mischevious grin that was always marked across his face.
Inexperienced and foolishly I continue to drive down the road at 50-60k's an hour. The music was blaring. We were laughing. I look at the boy next to me in wonder and awe. Not noticing that my foot was pressing harder on the accelerator.
One moment we were laughing and the next moment we were plummeting into sheer terror.
I lost control of the car, my back wheels spun, and I began to fish-tail down the road. My mouth was opened ready to scream, but sound was stolen as I realised I didn't know what to do.
No control. Losing it. All over the road. Friend is screaming.Boy is cursing.
The tree. It's coming closer. Closer. TOO CLOSE! My car was heading straight for it, images flashed through my mind of the car wrapped around the tree.
First thought: We're going to die. I'm going to kill them.
Second thought: Repent!
Third thought: JESUS GET US OUT OF THIS!!!!!!!!!!!!!!!
Closing my eyes, afraid to open them. Impact. My body hits the steering wheel, seat belt sharp against skin. My head flings back against seat.
Slowly, with so much fear creeping over my body, I open my eyes. Dead silence. Nobody is talking. Nobody is moving. And finally, I whisper, "Are... are we still alive?"
And as though the reality of the situation never hit, one of the boys lets out a wild laugh and declares "LETS DO IT AGAIN!"
My friend hits him. I would have too. We surveyed the damage. I collaped in the middle of the road in pain, and shock. We should have died. Nobody could have survived that. But we did. Jesus saved us. What if? What if what if what if?
The rest of the day was full of screaming parents over the phone, going to hospital, and catching a 2-3 hour train back home. Neck-brace on, bags under arms, and my friend and I plotting an excuse of what really happened. For years, the wallaby story worked, until I let the truth slip out last Christmas. My dad cried.
Lying in bed that night, body aching, unable to move head with neckbrace on... I wept. Violently. Repenting, I turned back to Jesus. I begged Him to take me back. That I wouldn't be a fool anymore, that I would trust and obey Him.
I learnt hard lessons that summer. I lost one of my closest friends, after that day we never really saw each other again. Her mum banned me. I never saw the boy again either, he thought I tried killing him.
But I found my Jesus.
posted by Samantha Louise 10:59 PM

Shine Jesus!

My long weekend has officially ended. It was grand... other than youth, church and a meeting tonight... all I did was lie on my bed and read books. I was supposed to go to a bbq today at the park but the book was beckoning to me to read... I just finished reading A Scarlet Thread. This book is definitly for a ladies, simply beautiful. I love Francine Rivers cos she writes romance novels but it always comes back to Christ. Love it.
The next two weeks are going to be hectic and I need God's strength to get through it physically. This is what is going on:
Tuesday- Work
Wednesday- Work, leaders meeting
Thursday- Work, Corporate prayer meeting
Friday- Uni all day, youth at night
Saturday- Uni all day, 21st party
Sunday- Church all day
Monday- Uni
Tuesday- Work
Wednesday- Work, small/life/cell group
Thursday- Work
Friday- Work, youth at night
Saturday- SLEEEEEEP!!!!!!!!!!!!!!!!!!!!!!!!!!!!!!

Anyways, I just want to share what Jesus has been doing. This year has been a tough year, and it seems I just keep walking head on into trial after trial. But that's okay, it hurts but it's a good hurt, you know? I'm truly beginning to understand what James meant in his letter "Consider it pure joy whenever you face trials of many kinds...". My intimacy with God has gone to a new place, I'm learning so much! It still sucks but I know that He is in control! He has been showing me that although I'm walking through the fire He is with me. In Daniel 3 it talks about how Sharrach, Meshack, and Abed-Nego were thrown into a fiery furnace because they refused to bow down to an idol and rather, chose to worship God. To read the full story click here! Assuming that you've read the story, I love that in verse 25 it tells us that King Nebuchardnezzar saw a fourth person in the fire! Jesus, Holy Spirit, whoever! I love that! God spoke to me so so so strongly through this. He encouraged me and told me that I'm walking through fire but He isn't on the sidelines cheering me on, rather, He is walking through the fire with me. And flip, I want to be where He is.. and if that means walking through the fire, then so be it. I will be obediant to what He wants to do in my life, after all, it's in the fiery times that God can use that to burn off the crud in our hearts that He don't want there.
And that's what He is doing.
He is ridding of pride, hurt, He is healing me, revealing sins I need to repent of, He is doing alot. I'm so grateful and thankful of that.
As I've been drawing closer to Him and finding who I am in Him and allowing Him to do His work, He has been blessing me so much. And people can see it! If God lives in our hearts, and He is a big God, then gosh... people should see God in us yes? Pouring out of us? I was in the Fish 'n Chip shop with some of my girls after church. Sitting next to an elderly greek (another! They must love me!) lady we began to talk. I could see this weight on her shoulders so I introduced myself and asked her how she was. She almost started crying right there and then! She told me how her husband had a stroke and how it has been difficult. With tears in her eyes she says, "You're a christian aren't you?". In shock I go "Yes... how did you know?" And she says, "Well... you shine."
Isn't that what it should be like? I've been readin the Scripture about how we're lamps and we should be on the hill and not hidden and covered. That is my prayer! Let the people see Jesus in us! That's how it should be, shouldn't it?
posted by Samantha Louise 12:14 AM

Thursday, March 8, 2007
The greek man at McDonalds.

The old man grinned widely at me as I took a nearby table at the McDonalds near my work. Double cheeseburger, medium fries, medium coke. Perfect to satisfy my fast-food craving. I carefully placed the tray down, unwrapped my burger and delighted myself in the burger of all burgers. As I munched slowly I looked across at the old man enjoying his newspaper and coffee. He was sitting on his own, smile on his face. Wrinkles that told a story of life and adventure, warm eyes, and obvious to the eyes that he was greek. I smiled to myself as I continued eating my burger enjoying my surroundings.

Lunch was finished and although I still had 15 minutes of my work break, I stood up ready to head back to the office to escape the chill of the air. As I rid of the rubbish and picked up my purse I felt the Holy Spirit nudge me to sit back down again. Obediantly, I sit down and look around me. What is it? I ask. What do you want? Looking down at my slim line, black and purple covered Bible I realised that God wanted me to read. Ofcourse. Why not.

I open the Word and turn to Acts 3. Engrossed in the testimony of Peter and John heading to the temple to pray, to be stopped by a beggar, and to see the beggar healed- simply incredible. I could almost see with my minds eyes as Peter declares to the beggar asking for money, "Silver and gold I do not have! But what I do have I give you: In the name of Jesus Christ of Nazareth, rise up and walk!" Such boldness, such declaration of faith and assurance. And love. I began to think of how yes it is important to provide the practical needs of the down and trodden. We must feed the hungry. Provide shelter for the homeless. We must. But, what if we lack these practical items ourselves? It does not mean we cannot give, we can still declare with faith the promises of God.

As I pondered this I almost forgot the Greek elderly man sitting on the nearby table. He poked his words into my thoughts, Excuseee me, what are you reading? His thick greek accent interrupts. I look at him with a smile on my face, and before I can even answer he asks in his rich accent, Are you reading the Bible?

Why yes! Ofcourse! Excitedly I say that I was. He grins a toothy smile, And what language was the New Testament originally written in?, He professes. Laughing I say "Greek.." The elderly Greek man chuckles and announces "And that is what I am!". Waving his hand he ushers me to sit by his side and share his table with him. Grabbing my Bible, mobile and purse I switch seats so that now I was sitting face-to-face with the charming man.

"It encourages me to see a young lady such as yourself reading the Word of God" He nods his head, smile in his eyes. The next 15 minutes was filled with tales of his walk with God... his salvation in 1959. How he as on fire, an enthuisiast, full of zeal, moving in the power of God. Sadness then shades over his face, But... I lost it.. Shocked, I looked at him and wonder why. Jim, the elderly greek man, notices my puzzled face and answers "But don't you worry. I needed to see a young lady reading the Bible today. I needed to see a young person on fire, such as yourself. I know that despite my age, I can too be on fire. Don't lose the zeal. Don't lose the passion. You've encouraged me today to find it again."

My lunch break was over, it was time to leave the company of my new friend. Read Acts 3... it's good... real good! I exclaim, as Jim leans over and gives me a big sloppy wet kiss on my face.
Till the Lord allows us to meet again! He winks at me, as I leave McDonalds.

Labels: Used by God
posted by Samantha Louise 11:49 PM

Wednesday, March 7, 2007
And she was healed!
Last night was my futile attempt at escaping. Jumping into my car I drove about an hour away, out to the hills, past the hills. I just kept on going. Music blaring. High-beam lights on so as to avoid any cows walking across the road. All I wanted to do was get out, escape, go
far far
away. How come it's at your weakest moments that God will choose to demonstrate His power? Most definitly because then we can definitly take no glory for ourselves, all glory must go to God.
As I was driving off into some unknown, unfamiliar territory a dear friend of mine felt lead to text me. All it said was...
"1 Thessalonians 1:4.. it is clear to us, friends, that God not only loves you very much but also has put His Hand on you for something special."
Chuckling to myself I turned into a farm, did a U-turn, and headed back towards home.
"Okay God... what's this something special You have for me tonight?"
My heart was beating faster by the second. For I knew that by asking such a question, ofcourse He was going to challenge me with
something
. Instantly my heart began to break for one of my young girls
mum
. I've previously mentioned this
young girl and her mum
, such brokeness and what appears to be hopelessness. So, as my heart broke for this mother I began to pray for her. And as I prayed for her I had such an urgency in my spirit that I
needed
to see her
that night
and that I needed to to pray with her.
Pulling over,
so as not to be in trouble with the
police
, I texted her and asked if she was still awake, and if so, if I could come over to talk with her. Within seconds she replied,
"Yes! Please! Come over now!"
Finally, I reached her home. Palms sweaty, a nervous chill went down my spine. Something big was going to take place, I could feel it. I could just feel God's heart for this lady, I could feel that all He wanted to do was comfort her and be there for her.
Before I even reached the door step, the front door had flung open, and here she is in her old dirty teeshirt, trackies with holes in it, unkempt hair, moccasins on feet,brace on leg, and sadness in her eyes. "Come in...!" She pleads. Thankful to have adult company by her side.
The next hour was filled with laughter, tears, Bible reading, and this broken mum
giving her heart to Jesus!
She told me her pain, and I told her God's love. As the conversation was coming to a close and it was time to come home I felt the prompting of the Holy Spirit to pray for her leg. Her leg was in a brace and she said she was having surgery in a weeks time, she told me she was in alot of agony as she couldn't take any pain killers due to
past drug addiction
. I told her how in the Bible Jesus healed people, and how as Christians we have authority in His name, and that it says in the Word if we lay hands on the sick they will be healed. Excitedly we prayed, I layed my hands on her leg/knee... the Holy Spirit was moving powerfully, I could feel her bone moving under my hand, and I could feel her ligaments taking new shape. As I felt the Holy Spirit say
"It's done."
, I looked up at her. A big grin was on her face. She
rips off
the leg brace, stands up, and begins to
run
and
jump
around the house. Running, free, amazed. She then drops on her knees, crawls around the family room and exclaims
"I haven't been able to do this in FOUR years!"
. Together we hugged and praised God, I said my goodbyes, drove home and wept. Wept because wow, what
love
God has for His people.
Labels: Used by God
posted by Samantha Louise 4:28 PM

Tuesday, March 6, 2007
She's alive!
Wwweeeelllllllll.........

I'm still alive.

I received a call last night from a blog reader asking me if I still existed. Yes, I exist! I'm here!

Been quite pre-occupied over the past week. Haven't really had time to be online. I started back at uni. Wow, it was interesting.

Note to all uni students: Do NOT do what I did. On my graduating year, 2005, I became extremely slack and stopped turning up to class. And, I failed. 2006 found me having a break from uni... 2007 begins the year of passing what I previously failed. All my friends have long graduated, I'm now stuck with unfamiliar faces. That's okay, at least now I won't muck around and I might do good.

Although, that didn't stop me from turning up to class 45 mins late and leaving 30 mins early cos I was bored.

Friday's are good though. That is a rarity. There are 4 intensive weekends I must endure. Friday-Saturday, 9:30am-4:30pm. But it's all good, I get trained up, qualified and possibly paid to do highschool seminars. It's a pretty damn good class.

In other news since my last blog entry, my hunger for the Word of God has increased rapidly. Remember that story I told you about the Pork and apple sauce sandwhich? Yes well, my craving for the Word far exceeds the craving I had for that food.

And that is what I have been preoccupied with... reading the Word rather than writing here.

But alas, I will continue to write more!
posted by Samantha Louise 11:02 AM